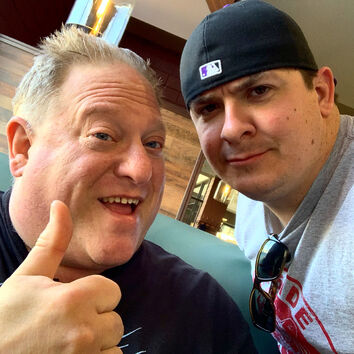 Troy Fromin played in 8 epsiodes of Saved by the Bell as Ox and Scud. These roles still have fans wanting more after almost 30 years. Recording Artist & Entertainer, Jon Robert Quinn has been a huge fan of the show since grade school, dedicating his life to the entertainment industry. As Jon Robert Quinn's career grows, so does his passion for reuniting the cast of SBTB on future projects. 
Quinn connected with Troy
Jon Robert Quinn joined a Saved by the Bell group one day in 2018 and to his amazement found Troy Fromin also in the group. After chatting and building a friendship, the conversation of Ox came about and the character had been asleep since the seaon's end in 1991. The two came together and decided reviving the character would be a wonderful tribute to the SBTB community. Dates were set and filming was scheduled. 
Filming the video
In November 2019, Jon Robert Quinn checked into Millenium Biltmore Hotel to start shooting the video wearing a Bayside Tigers T-Shirt and the determination of reviving this character. Throughout the video, you see Jon Robert Quinn holding a sign that reads "Have you seen Ox?", traveling up Hollywood Blvd and other parts of Los Angeles. The video ends in front of Troy's family restaurant Fromin's, located in Santa Monica with Troy Fromin coming out of the restaurant wearing his Ox shirt and jumping for joy that his beloved character has been revived. Rumors are that the "Reboot" may be bringing Ox back... We will see!
Community content is available under
CC-BY-SA
unless otherwise noted.