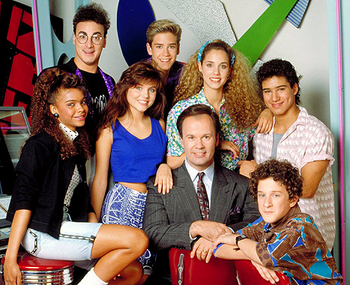 Saved by the Bell was a TV series that ran from 1989 to 1993. 
Plot
The series follows Zach Morris, a complete sociopath, and his five best friends through Limbo and back. A.C. Vladimir, played by Mario Lopez, is the insane serial killer who escaped a mental hospital years ago and is hiding under the pseudonym of D.C. Slater. Samuel 'Screech' Powers, played by Dustin Diamond, is the religious nut who dreams of one day sacrificing all reality to his savior, Malafisto. Kelly Kapowski, played by Tiffani Thiessen, is the part-time stripper who spends her nights supporting her brother/son. Lisa Turtle, played by Lark Voorhies, is the drug dealing crackhead. And Jessie Spano, played by Elizabeth Berkley, is the fat SJW that shouts at her computer a lot. Like all women, she hates women and longs to be treated as an object of hatred by men. 
During the series they go through the ups and downs of AIDS, teen abortions, and always annoy their high school principal - Mr Reaper.
Main Cast
Other Cast
Seasons
Saved by the Bell