Jurassic World: Dominion Dominates Fandom Wikis - The Loop
Play Sound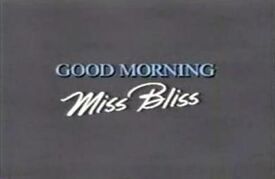 Good Morning, Miss Bliss is a precursor to the Saved by the Bell series. The series aired from December 7, 1988 until March 18, 1989 on NBC and Disney channel to focus around the life of Carrie Bliss and her eighth-grade students, Zack Morris, Lisa Turtle, Samuel Powers, Mikey Gonzales and Nicole Coleman.
The series is considered canon in relation to the characters of Saved by the Bell's history but does not factor into the show or its sequels.
Cast
Episodes
#
Image
Title
Airdate
01
Summer Love
November 30, 1988
Zack finds out the older, 9th grade girl he had told everyone he was with at summer camp, Karen (Carla Gugino), has transferred to JFK High, and he tries to keep up the charade that he too is in the 9th grade.
02
Love Letters
December 7, 1988
Screech asks Zack to write a love letter from him to Lisa.
03
Wall Street
December 14, 1988
While doing a class project on stocks, Zack invests the class's money on risky stocks.
04
Leaping to Conclusions
December 21, 1988
Nikki refuses to do the science class's frog dissection.
05
Parents and Teachers
December 28, 1988
Zack's dad Peter (Robert Pine) meets Miss Bliss at a parent/teacher conference and they find they are attracted to one another.
06
Showdown
January 4, 1989
Screech's friends encourage him to stand up to bully Deke Simmons (Andras Jones).
07
"Save the Last Dance for Me
February 4, 1989
Zack and Mikey fight over Shana (Alexondra Lee) whom Mikey likes, but who asks Zack to a dance instead.
08
The Boy Who Cried Rat
February 11, 1989
Miss Bliss is a candidate for Teacher of the Year; Zack lets Screech's pet rat out into the school to avoid a midterm.
09
Let's Get Together
February 18, 1989
Zack and Nikki are arguing and then are partnered for a class project; Tina moves in with Miss Bliss after her boyfriend dumps her and subsequently drives her crazy.
10
Practical Jokes
February 25, 1989
A mock trial is held after a series of practical jokes ends in one that breaks Miss Bliss's "unfooled" streak. Miss Bliss then reveals the joke she pulled on the students in order to get them to study the Constitution for their class better. However, she really ends up falling victim to Screech's prank.
11
Stevie
March 4, 1989
Zack bets Nikki he can kiss pop singer Stevie (Suzanne Tara).
12
Clubs and Cliques
March 11, 1989
Zack is embarrassed by some older students who invite him into a "cool" club. Miss Bliss and Mr. Belding trade places for a week.
13
The Mentor
March 18, 1989
Miss Bliss's former teacher Mr. James Lyman (Robert Donner) returns and causes controversy with his teaching methods.
See More